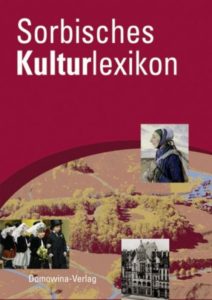 What was the Wendish regiment? When did Sorbian literature first appear in books and publishing houses? When did the myth about the Sorbian wizard Krabat emerge? What are the characteristics of Upper and Lower Lusatia, of the Upper Sorbian and Lower Sorbian language? Which consequences has brown coal mining? – Lexicons and encyclopaedias deliver information on data and names, facts and figures. A popular work on Sorbian culture and history of this kind, the "Sorbian Cultural Lexicon", has been existing since 2014. It systemises the current knowledge about the life of Lusatian Sorbs.
Knowledge of the old-established minority in both Lusatias has been scattered so far, but is now summarised in the lexicon at hand. It is a project of the Sorbian Institute and was published by the Domowina publishing house in Bautzen. More than 200 academic articles give an insight into the current state of research of several arts disciplines. Numerous external authors participated in this project in addition to the staff of the Sorbian Institute. The amount of publications and research has increased since the Enlightenment, especially in the early 1900s. Today, there are reliable findings on Sorbian history, language, literature and folklore. The main audience is the interested German public. The main findings of Sorabistic research from Germany and abroad are hereby accessible.
The aim of this digital version is to extend the number of recipients. The articles are sorted alphabetically. The definition of each keyword is followed by a clear description of the respective subject matter. Biographic as well as geographic information on the country and its people is conveyed in the context of the respective topic. The texts of the printed version were slightly edited where necessary, e.g. to correct factual errors and to update the bibliography. Not all illustrations from the print book were transferred to the digital version due to legal reasons. Instead, alternatives from the photo archive of the Sorbian Cultural Archive are offered. At the moment, only a limited number of articles is accessible online; the digitalisation of the whole lexicon is still in preparation.